Invisalign Invisible Braces in Guelph Ontario
With new advancements in dental technology, the appearance of dental braces has become a thing of the past. Braces are an important device used in dentistry, misaligned teeth should be dealt with as early as possible to avoid future complications. However, many people have reservations about how braces can look aesthetically. Invisalign is a company that has created a new solution for misaligned teeth, with a discreet look that will have you rethinking your preconceptions about what dental braces can be.
Invisalign invisible braces perform the same task as traditional metal braces, to straighten out your teeth. These alignment braces are made from a certain plastic which is custom-made from an impression of your mouth. A 3D scan is performed by your dentist who creates an impression of your mouth for an accurate, close fit. This is available at our office in Guelph. Direct billing is available here for these procedures.
The process for Invisalign is called a 'road map' which plans out the trajectory for your teeth and the intended progression for misaligned teeth. The device is designed to fit comfortably in your mouth with a flexible material. The edges are trimmed in order to achieve this close fit and prevent any gum irritation. Traditional braces must be tightened every few weeks and Invisalign has a similar requirement. New frames must be made and installed at the same frequency as metal braces. This ensures that the teeth straightening progresses.
Invisalign time frames vary depending on the individual circumstances. How crooked the teeth are, the amount of teeth to be aligned and the patient's dental history are all factors in this. With small gaps, it can take as little as eight weeks in some cases. More pronounced deviations can take much longer. Everyone's teeth have different temperments, adjusting the time frame for each case based on how easy the teeth are to move.
Contact Dr. Diodati at Woodlawn Dental Care in Guelph. Orthodontist procedures such as crowns and implants are also available so pay us a visit to discuss your options.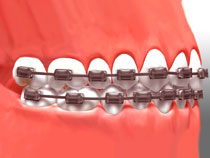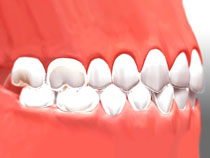 Last Updated On
2021-10-24