Full Mouth Restoration in Guelph Ontario
Dental health is not always the primary concern for people for a multitude of reasons. Preventative oral care is important to maintain health and prevent issues occurring or escalating. These measures are not always adhered to for various personal or economic reasons but there is usually a solution to fix even the most intimidating dental task. Personal neglect of teeth for extended periods of time is not uncommon. When untreated for years, issues with teeth can escalate and become a cause of embarrassment for patients. Everyday tasks such as eating or smiling can be an ordeal with cases like this.
With damaged, worn and missing teeth this situation can seem much more daunting that it needs to be. If extensive dental work is needed to restore a smile, you should consult a dentist. Guelph dental surgeon Dr. Diodati understands these concerns and here at Woodlawn Dental Care we aim to provide solutions.
At our Guelph family dentist we can explore treatments to fix prolonged issues with teeth. Depending on the situation, we can utilise a combination of crowns, veneers and dental implants. Periodontal therapy and endodontic treatment may also be beneficial and can be undertaken at our practice in Guelph. Direct billing is available for these procedures.
When an examination takes place, visual assessment would be the initial method undertaken. This would be carried out along with radiographic observation, such as an X-ray or CT scan. Multiple trips may be needed based on the individual case. It can seem like an overwhelming task but here at Woodlawn Dental Care we understand the concerns for patients and aim to create a calming atmosphere for those who suffer from anxiety.
If you are unsure where to start with rectifying your dental health, speak to us at Woodlawn Dental Care in Guelph. Dental surgeon Dr. Diodati is here to assess your dental health and aims to provide some suitable solutions.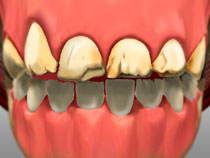 Last Updated On
2021-10-24