Dental Bridges in Guelph Ontario
Missing teeth can be a concern for many. It is a common problem for people as they age but the appearance should not worry you, as it may have done before. There are dental procedures which we can perform as our family dentist in Guelph. Cosmetic dentist methods such as bridges are options for those seeking to restore their smile. Other options could be implants, crowns or veneers if you have damaged, discoloured teeth. Missing teeth can stem from neglect of dental health for a prolonged period or damage from an accidental injury. Whatever the cause, the important thing to remember is the ease in which dental health can be improved. It is always advised to check with a dentist if you are unsure about any procedures you might be considering. Early detection and treatment will go a long way to mitigate future complications.
If you are having issues speaking, chew or noticing strain while biting then a bridge could be the answer. Bridges are artificial teeth which 'bridge' the gap between teeth to create a fuller set of teeth. This can be for aesthetic purposes as well as practical. They are semi-permanent, meaning they can only be removed by a dentist. They strengthen the mouth by reducing the strain on the remaining teeth.
Bridges are also used for larger than usual gaps between teeth. Whatever the purpose, we are able to discuss procedures like this at our family dentist in Guelph. Direct billing is available at our practice, as well as other options to bring back your smile.
If this sounds like something that would improve your dental wellbeing, Guelph dental surgeon Dr. Diodati is here for you. At our Guelph family dental practice we can answer your questions and concerns about bridges, amongst other procedures. Contact us today to request an appointment at Woodlawn Dental Care.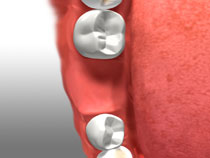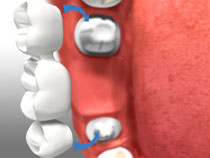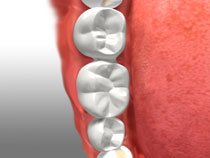 Last Updated On
2021-10-24