Tooth Colored Bonded Fillings in Guelph Ontario
There are alternatives to amalgam fillings if you are wanting a look that more closely matches your natural teeth colour. Woodlawn Dental Care in Guelph can give you a composite resin filling if you have a cavity that needs to be rectified. If you are concerned about repeated trips to the dentist, you need not be worried. Composite fillings can be fitted with typically just one or two trips to our office in Guelph. Family dentist Dr. Diodati can discuss with you other options for your oral health such as crowns and implants.
Amalgam fillings are considered safe, with a long history of use. They have a long lifespan of active use, from 10 to 15 years in some cases. They are crafted from mercury which is combined with another metal to ensure a stable compound is formed. This has been a reliable method in dentistry for many years. However, modern advancements have allowed for more attention to the cosmetic preference patients might have.
The benefits of composite fillings are in the aesthetic. The resin used in these fillings compared to amalgam more closely resemble the natural tooth colour, which might benefit patients looking for a specific look. Our Guelph cosmetic dentist work might be the answer for these patients.
Fillings in general are intended to restore decayed and damaged teeth. This isn't always a case of brushing twice a day, as damage can occur through accidental injury or symptoms developed as a result of stress. Pressures of life and work can cause many people to grind their teeth (also referred to as bruxism) which can lead to damage requiring a filling. Lifestyle choices such as smoking cigarettes or consumption of caffeine also contribute to this habit, which is often done during sleep.
To request an appointment to discuss bonded fillings, click here. At our practice in Guelph, orthodontist Dr. Diodati will be able to alleviate any concerns you might have about composite fillings.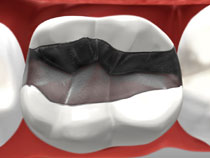 Last Updated On
2021-10-24